The growth of computer networks has led to increasing diversity of Internet applications, including streaming media and network games. Unfortunately, the difficulty of user studies and the rapid rise of new applications has left researchers without precise information on how network and system improvements (treatments) benefit the networked application user. This lack of knowledge makes it difficult to properly assess the benefits of new network treatments or to design the next generation networks that will effectively support the QoS of emerging applications. We intend to bridge this gap in understanding with three innovative projects: 1) integrating measures of network performance with user perception; 2) quality of service for network games; and 3) adaptive streaming media repair.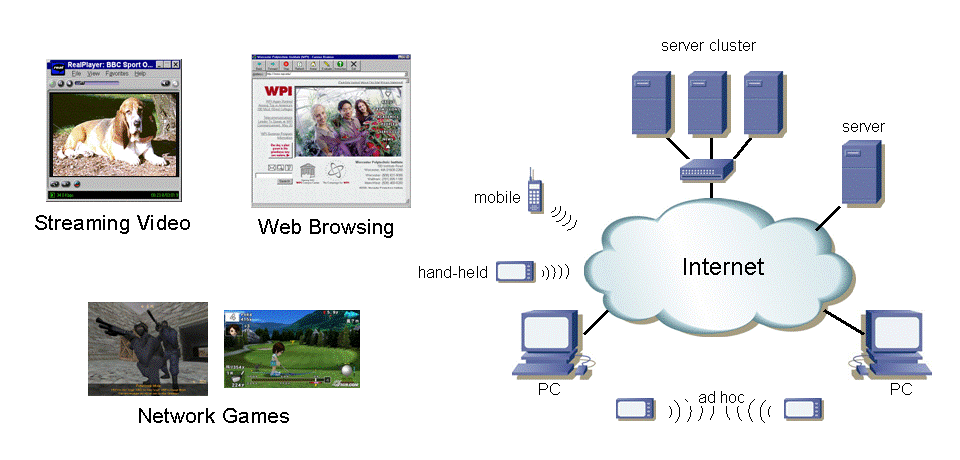 Wireless streaming multimedia performance measurement

Forward Error Correction for streaming multimedia

Network game traffic analysis

Analysis of turbulence caused for network applications

Quality of Service for network applications
Other research groups and labs:

Media players plus:
There have been contributions to this project by faculty, graduate students and undergraduate students.
Faculty
Graduate Students
Jae Chung
Feng Li
Mingze Li
Rui Lu
Ashish Samant
Huahui Wu
Undergraduate Students
Andrew Brommelhof
Feissal Dama (UMass Lowell)
Yong Heng Wu Fang
Steven Gargoliniski
Jon Gretarsson
Leon Kay (UMass Lowell)
Jesse King
William Lee
Brian Platt
Gregory Ratner
Allen Seitz
Chris St. Pierre
Nathan Tibbetts
This material is based upon work supported by the National Science Foundation under Grant Number CNS-0423362. Any opinions, findings and conclusions or recomendations expressed in this material are those of the author(s) and do not necessarily reflect the views of the National Science Foundation (NSF).